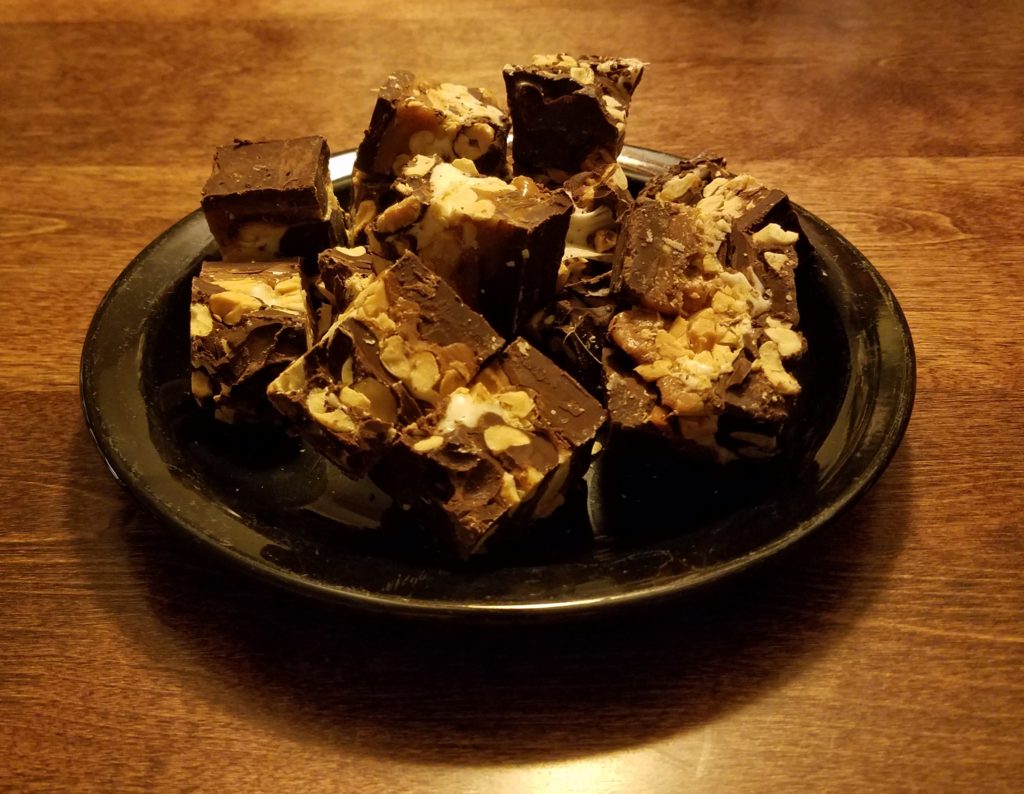 Ingredients:
4 bags of Western Family Semi-sweet Chocolate Chips
1 13oz bag of Caramel
3 cups of dry roasted peanuts
1 bag Marshmallows or 1 jar marshmallow creme
Directions:
Melt the chocolate chips. I like to use a double boiler but my wife prefers to microwave for 30 seconds at a time, stirring in between.
In another container, unwrap caramel and melt in a similar manner.
Line a 13×9″ casserole dish or cake pan with wax paper.
Use half of the melted chocolate to cover the bottom and sides of the pan.
Lay down enough peanuts to fully cover the chocolate in a single layer.
Cover the chips with a layer of the melted caramel.
Lay down a layer of marshmallow cream followed by another layer of peanuts.
Top it all off with your last layer of melted chocolate.
Chill until the chocolate is solid.
Set out at room temperature until the chocolate is warm enough to cut easily
Remove from pan and wax paper and cut into 1 inch squares.
Store and eat at room temperature.
Tips:
If you don't have enough caramel, you can stretch it a little by adding melted marshmallows and mixing well.
Make sure your wax paper is all coated with chocolate. The chocolate will separate from the wax paper easily. The caramel and marshmallow will not.
Comments
comments